Room sharing—keeping baby's sleep area in the same room where parents sleep—is recommended because it reduces the risk of Sudden Infant Death Syndrome (SIDS) and other sleep-related causes of infant death.
If you bring your baby into your bed to breastfeed or comfort, make sure to put him or her back into a separate sleep area in your room when finished. If you fall asleep while feeding or comforting baby in an adult bed, place him or her in a separate sleep area in your room as soon as you wake up.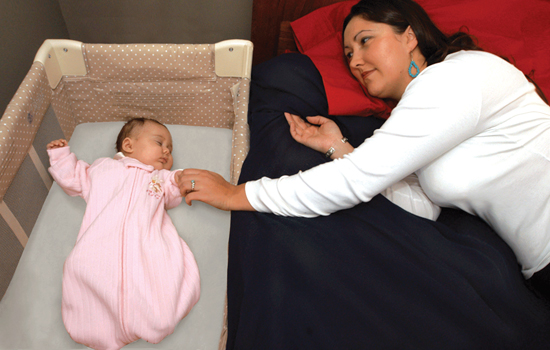 Download 2048x1305 resolution (JPG 2.74 MB)
Download from NICHD Flickr Album
Image courtesy of the Safe to Sleep® campaign, for educational purposes only; Eunice Kennedy Shriver National Institute of Child Health and Human Development, http://www.nichd.nih.gov/sids; Safe to Sleep® is a registered trademark of the U.S. Department of Health and Human Services.