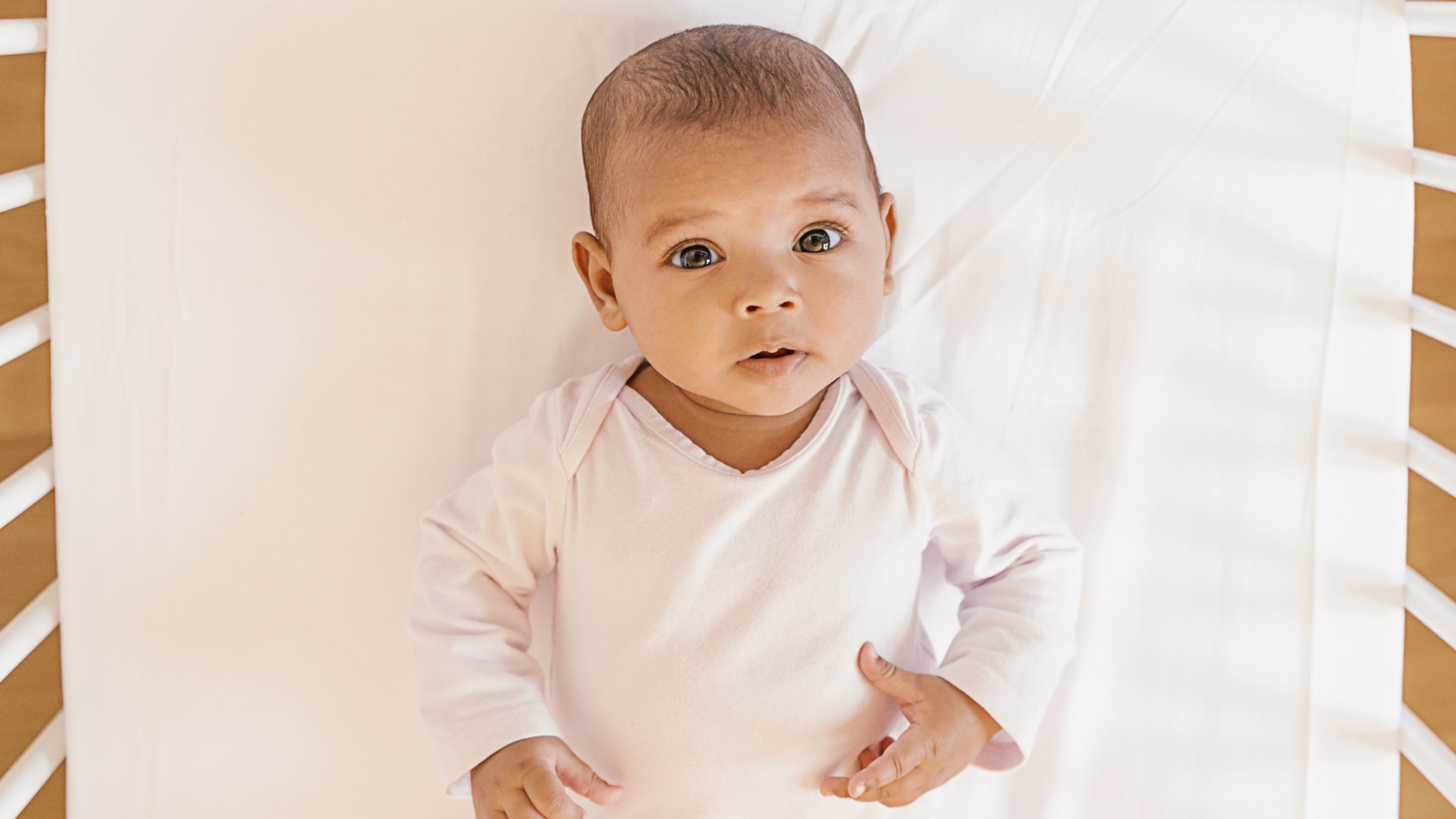 During Sudden Infant Death Syndrome (SIDS) Awareness Month, help encourage safe sleep for babies by taking the #ClearTheCrib Challenge and sharing your videos with the #ClearTheCrib hashtag.
The #ClearTheCrib Challenge is a fun activity that raises awareness about safe infant sleep. Try the Challenge with friends, during baby showers and parenting classes, or as a relay race or practice on your own. Promote the Challenge and invite your audiences to challenge themselves. Check out our video showing how to do the #ClearTheCrib challenge.
Remember, the goal is to create a safe sleep environment. How quickly and accurately can you clear the crib?
On This Page
A crib, bassinet, portable crib, or play yard that follows the safety standards of the Consumer Product Safety Commission
Up to 10 pieces of "crib clutter," such as:

Baby wipes
A bottle
A pacifier with a string (any item attached to a string or cord is a strangulation risk)
Soft toys or stuffed items
A blanket (in the crib or hanging over the side of the crib—neither is recommended)
A book
A pillow
A Baby Lounger
Extra diapers
Extra clothes

Several acceptable items for the sleep area, such as:

Pacifier by itself/not attached to a string, cloth, or stuffed toy (pacifier use is only recommended *after* breastfeeding is established)
Fitted sheet
A doll or other object to represent a baby—if using something other than a doll, add a "BABY" label to make it clear that the item is the baby

Digital or printed copies of the What Does A Safe Sleep Environment Look Like? handout
Digital or printed copies of the champion certificate (PDF 109 KB) and/or participation certificate (PDF 72 KB)
A stopwatch, timer app, or other timekeeping device
A cellphone or another video recording device (optional)
For healthcare providers: a printed "prescription" (PDF 378 KB) for the activity (optional)
Set up the safety-approved sleep space. Make sure there is enough room for participants to safely move around the space.
Add up to 10 pieces of crib clutter and at least one piece of the acceptable item(s) to the sleep area. Spread out and mix up the items so the participant has to really think about whether an item belongs in the sleep area.

Tip: Have a nearby box or container (such as a basket or bucket) in which to place items pulled out of the sleep space during the game.
Review the game instructions and educate participant(s) on safe sleep environments, using the What Does A Safe Sleep Environment Look Like? handout.

For healthcare and service providers (on site):

Give the participant(s) a copy of the handout to keep.
Discuss safe infant sleep by reviewing the handout.
After reviewing with the participant(s), allow them to look over the handout on their own for 1 or 2 minutes.
Address questions about the information as needed.


For healthcare providers (prescription):

Give the participant(s) their "prescription" for completing the activity at home, along with a copy of the handout.
Use this opportunity to start a thoughtful conversation about safe infant sleep.


For baby showers or other group settings:

Select one person to review the handout out loud.
Give the participant(s) a copy of the handout to keep.
After the review, allow participant(s) to look over the handout on their own for 1 or 2 minutes.


For individuals:
Set a timer for 10 seconds.Give a participant 10 seconds to #ClearTheCrib. They should remove crib clutter but leave in the acceptable item(s). Before starting the timer, give the participant(s) a 3-2-1 countdown. Once the 10 seconds are up, say, "Stop."

Tip: Use a cellphone camera or another video recording device to record the participant(s) as they complete the activity. If posting on social media, be sure to get permission from all participants shown in the video.
Count the number of correct items the participants(s) removed and left in the sleep space. If multiple people are playing, the individual who removed/left in the most correct items wins! Give the winner a champion certificate and give others participation certificates. Be sure to celebrate all participants for their interest in learning about safe sleep environments.

Optional: Take pictures of the participant(s) with their certificate(s) and post the pictures on a bulletin board or on social media, if appropriate.
Optional: Discuss the activity with participant(s) after you've finished. Were they surprised by any of the "unsafe" crib items? Do they have any questions? Is this something they would play with family members or friends?

Optional: Share approved videos and/or images on social media using the #ClearTheCrib hashtag!
Make sure to review the Before-You-Post Checklists.
Include a safe infant sleep message with your post to help inform your followers about safe sleep for babies. You can use these messages from Safe to Sleep® as inspiration.
Use #ClearTheCrib and any other parenting hashtags that you follow or use on social media.
Consider making your Facebook post public so that it is shareable and visible to others.
Consider making your Twitter or Instagram account public so that your photo can be seen by others who are using and following #SafeSleepSnap.
You can also show your support for SIDS Awareness Month and partners by reposting/retweeting #ClearTheCrib posts from others.
Do not forget to:
Learn more about ways to reduce the risk of SIDS and other sleep-related deaths.